Under a Bridge In Yangon With The Burmese Punk Scene
I spent New Years Eve watching Burmese punk bands under a motorway bridge in Yangon, Myanmar. Here's the tale and a bunch of pictures to go along with it.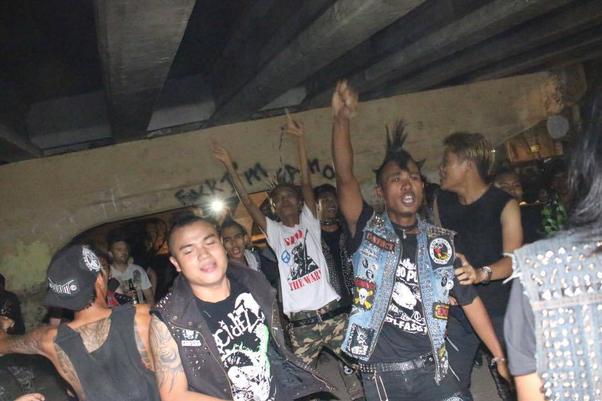 Myanmar is an absolutely beautiful country and I was lucky enough to have spent slightly more than a week travelling around Mandalay, Bagan, Kalaw and Inle Lake before finally arriving in the capital city of Yangon. My girlfriend and I had a fantastic time hiking through hinterlands, floating down rivers, exploring temples and meeting the warm and welcoming populace.
My main goal in Yangon however, was to see some local punk rock bands play live.
I had seen videos and heard music from the punk scene in Yangon and attempted to track down any shows that might be happening within the short time frame (4 days) I was there.
I reached out to The Rebel Riot Band whom I had a contact for and hoped for the best. It was New Years Eve 2015 and it seemed like the only thing we could find was some crappy metal-core and pop-rock in a park with fireworks.
Suddenly, around 6pm I received an empty message but for a link to the flyer below.
I could not believe my luck. Although slightly confused about doors under a bridge, I proceeded to excitedly explain to my girlfriend how we were changing all of our plans. Instead of watching fireworks and doing the "couple thing", we would be heading out to Kamayut to spend our night under a bridge.
She was cool with it.
We arrived a bit early and headed to the closest bottle shop for supplies, which was on the same street as the bridge. Others also seemed to have the same idea as there were punks all over the place.
Stocked up with Myanmar beer, we made our way down the street to the bridge. A slight decline led us down below the overpass and we could see the early stages of a PA system being set up. A loud chugging noise signalled that the generator had come to life, and with it, a single fluorescent tube light hanging from a pylon flickered into existence.
As more people started to gather, the speakers started to pump out tunes from bands such as Chaos UK, Subhumans, The Casualties and The Exploited. There was to be no weak, namby-pamby, post or pop-punk here tonight my friends; just real hardcore punk. It was both invigorating and refreshing in comparison to what Hong Kong usually offers.
While waiting off to the side for the revelry to commence, the singer from Rebel Riot came over with a big smile to say hi and thank us for coming. He's a very friendly guy and he said they were running a bit behind schedule, they were just waiting on the rest of the equipment to turn up. There were five bands arranged to play that night and they were rearing to kick off.
In what seemed like no time at all, a ute turned up and everyone joined in carrying the amps and speakers to the spot where they were to be set up. We began to hear the screech of guitars tuning and drum rolls which echoed around us under the bridge. The traffic going past on either side did an excellent job of drowning out the noise if you were to leave the confines of the area. The perfect spot for a secret show.
And a secret show it needed to be. I was told they hadn't had a show that the cops hadn't shut down for nearly six months at that time. I was bloody lucky to be there when I was it seems. No one seemed very worried about this gig though, as it was explained to me since it was New Years Eve the cops would be spread too thin to track them down.
First band up was OAF; some good old straight-up punk rock. They had tons of attitude and the crowd was loving it - rough as guts and awesome. I attempted to take some photos for a little while but the camera on my phone couldn't deal with how little light there was so I just jumped into the crowd instead.
Next up was a change of pace with a crust punk band. Sadly, I didn't catch their name but I'm going to go out on a limb and guess it was Never Reverse judging by the order on the flyer. Although as any frequenter of punk gigs know, play order often gets changed around so it's nothing more than a wild assumption. These guys were raw as hell and made no apologies with their angry, screeching vocals. Loved it.
Following the crust was the band I'd heard so much about: Rebel Riot.
Before kicking off, the singer asked for people to chuck in money towards renting the generator and equipment. Everyone was more than happy to give what they could. It immediately reminded me of the punks picnics in Sydney.
Rebel Riot kicked off. Clearly veterans, they had the crowd hanging on their every word. To say they are politically charged would be a massive understatement, with many songs spitting at religion and the government in Myanmar. Most other places in the world this would seem typical of a punk band but there it felt alive and visceral.
A bunch of songs in and .... silence. The generator died!
Mechanically-minded friends were called to help fix it.
Unfortunately, it seemed to be well and truly kaput.
Not to be disheartened - even though without power or light, the night transformed into an acoustic punk jam.
And that concludes the tale. We had a great time that night and I know Defiant Scum would love to play along-side these bands some day whether that be Hong Kong or Yangon.
Most of the above images were taken from the Rebel Riot page as my camera just wasn't up to the task (the crappy photos are mine). Visit the Rebel riot page here: https://www.facebook.com/therebelriot/